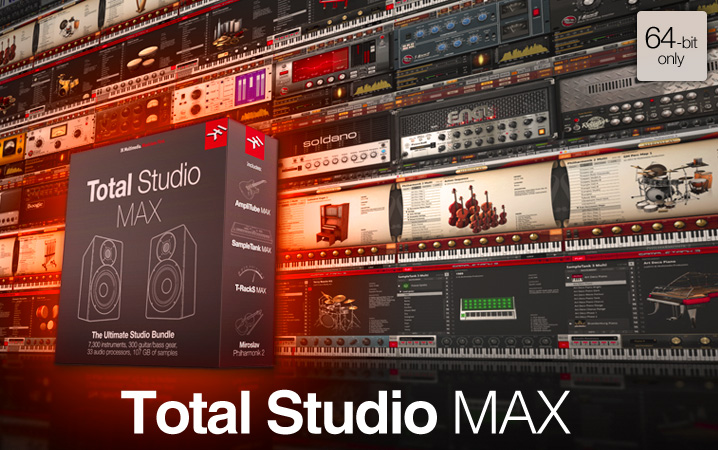 We've worked with IK Multimedia on numerous occasions to bring you guys their very cool mobile recording gear and they have been a sponsor in the 6-Pack Songwriting Competition for years, providing our members with samples, software, virtual instruments, you name it.
Well, this month they cooked up something special for us. A FREE copy of their Total Studio MAX software. Not only is it a great Digital Audio Workstation but it comes with recreations of the greatest amplifiers ever created for your bass and guitar work. It's got all the synths you could ever want and an amazing synth orchestra that can help take your productions up a notch. Plus a mixing and mastering suite to sweeten your recordings before you send them off.
Sound quality is the biggest reason that our providers say they can't pick an otherwise good song for a Film or TV pitch. It's gotta be broadcast quality and Total Studio MAX can help you with that.
Just write in a comment about why you need a new DAW and these awesome samples and software amplifiers and we'll pick one lucky member to get a free version of the software. That's right, a $1000 value!
Here's what IK has to say about the software:
Everything you could ever need for recording, sound design, mixing and mastering on your computer and more — that's Total Studio MAX. An exciting bundle for the discerning producer who truly wants it all, it collects all three of the comprehensive MAX bundles,AmpliTube® MAX, SampleTank® MAX and T-RackS® MAX bundles, plus adds in Miroslav Philharmonik 2 to create the ultimate IK Multimedia bundle for studio use.
over 300 pieces of gear in AmpliTube MAX
over 7,300 instruments and 110GB of samples between SampleTank MAX and Miroslav Philharmonik 2
33 T-RackS MAX processors
Create your ultimate guitar or bass dream rig with AmpliTube MAX's massive collection of over 300 pieces of guitar and bass gear, including gear from the world's top manufacturers. Mix, master and add that perfect professional finishing touch with T-RackS MAX's 33 high-end processors modeled on some of the most popular hardware modules ever made. Explore a new universe of sound with SampleTank MAX and Miroslav Philharmonik 2, which provide a massive library of over 110GBs worth of samples with over 7,300 instruments. And you can do all of this for one extremely low price that's a full 89% off what it would cost you to buy everything individually.
AmpliTube MAX — Maximum guitar & bass
Jaw dropping tone, amazing sonic flexibility and serious realism are all what Amplitube MAX is about. Included in Total Studio MAX, it gives you all the things you need to make the guitar or bass rig of your dreams. It comes with AmpliTube 4 Deluxe,AmpliTube Fender®, AmpliTube MESA/Boogie®,AmpliTube Orange®, Ampeg® SVX, AmpliTube Jimi Hendrix™ Anniversary Edition, AmpliTube Slash,AmpliTube Metal and a whole lot more. In total, you get over 300 amplifiers, cabinets, stomp boxes, rack effects and mics modeled after some of the most sought after gear on the planet.
Learn more about AmpliTube MAX
T-RackS MAX — Maximum mixing and mastering
Want to mix and master like a pro? Total Studio MAX comes with T-RackS MAX, the ultimate version of our mixing and mastering suite. You get all the included processors in T-RackS Grand plus all the individual pieces available in the T-RackS Custom Shop. You get 33 modules that cover everything from contemporary classics like our multiband Quad compressor series and near-invisible Stealth Limiter to timeless favorites like the Vintage Tube Compressor and EQ P50 series. Each one has been modeled after some of the most desirable studio hardware of all time.
SampleTank MAX and Miroslav Philharmonik 2 — Maximum creativity
Take control of your very own sonic universe with the creative power of SampleTank MAX and Miroslav Philharmonik 2, both included in Total Studio MAX. Between the two, you can explore a massive sound library with over 110GBs and over 7,300 instruments.
SampleTank MAX gives you all the power of IK's cutting-edge SampleTank 3 sound and groove workstation plus 22 additional instrument collections from the SampleTank Custom Shop. These include Art Deco Piano, Cinematic Percussion, Hugh Padgham Drums, American Acoustic, Elektronika series, the Beats series and more.
Over 52 GB of samples
Over 4,600 instruments
Over 7,400 drum, percussion and full construction-kit loops
Over 3,500 MIDI patterns
Learn more about SampleTank MAX
Miroslav Philharmonik 2, also included in the Total Studio MAX bundle, puts the most emotionally expressive orchestral collection ever released at your fingertips. You can manipulate all your sounds and record with SampleTank 3′s 55 high-quality effects, advanced synth section and 16-channel DAW-style mixer.
Over 58 GB of samples
Over 2,700 instruments
Included MIDI pattern library
Learn more about Miroslav Philharmonik 2
Ready when you are
All the included bundles and software can be used either on their own or as plug-ins in your DAW of choice. With the Total Studio MAX, you'll have absolutely every possible sound available to you, and ones you've never dreamed… yet.
Maximize your Studio with Total Studio MAX.